Welcome!
Our Open Door Bible Study is just that – open door! Any woman from any walk of life is welcome to attend. Our time is filled with Bible-based learning, fellowship and friendship
with the goal of deepening relationships with Jesus and one another. We look forward to having you join us!

BEGINNING JANUARY 18 & 19, 2022!
Tuesdays @ 9 AM (Chapel) / Wednesdays @ 6 PM (Room 230)

NEW! ZOOM session Wednesdays @ 7PM – Meeting info to come
Study: "God of Deliverance"
The exodus of the Israelites shapes our understanding of the whole Bible, its themes reverberating all the way to Revelation. Exodus is the birth narrative of a nation unmistakably guided by the Great Deliverer.
In this 10-session verse-by-verse study of Exodus 1–18, Jen Wilkin shows us that Israel's story is our story: the same God who delivered Israel also delivers all those He loves from slavery to sin and from service to the pharaohs of this world. He lifts our eyes to the promised land He has prepared where we dwell with I AM and worship Him as the one true God.
Suggested Donation for Workbook – $17 |
Nursery care is available!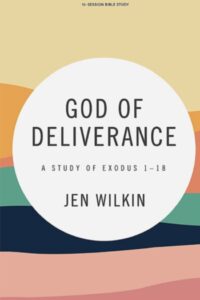 Friday thru Sunday, September 17-19, 2021
the beautiful Linck Hill Inn in Morris, PA
Room Accommodations:
Double, Triple & Quadruple Occupancy – Due to Covid, please specify roommate requests on your registration card below. To guarantee your roommates, please coordinate with each of them.


*We will do our best to accommodate roommate requests!

Towels and linens are provided
Retreat Cost:
$190.00 – includes meals, lodging & study material)

There is a $25 non-refundable deposit required with your registration to secure your spot

All payments are to be given to FBC office (Installments of $25 are acceptable)

Total balance is due by August 22nd
Transportation: Provided by FBC
Depart: Friday (5:00PM Sharp)
Return: Sunday (3:00-3:30 PM)
Meeting Place: FBC parking lot
What to bring:
Bible, Pen, sneakers/comfy shoes for free time activities, jacket (cool temps)